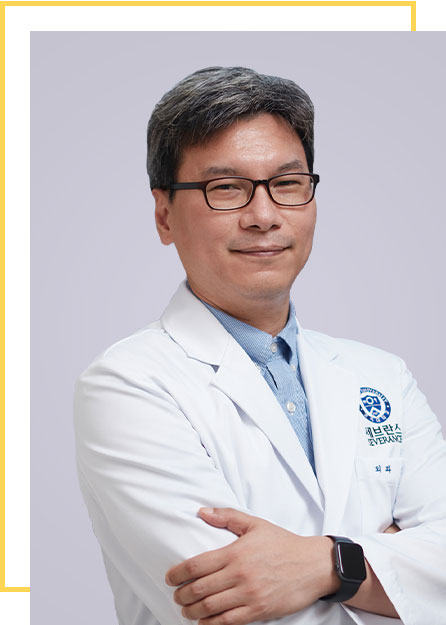 The First & the Best
Welcome message from the Director of Severance Robot & MIS Center
Dear Colleagues,
It gives me great pleasure to introduce you to the Severance Robotic & MIS Training Center.
The first form of our MIS center was in fact established in 1998, as the Dr. I. B. Yoon Memorial Minimally Invasive Surgery/Robot Center. Since then, various organ-specific endoscopic and laparoscopic techniques have been invented for the various surgical specialties.
Since performing the first robotic operation in Korea using the da Vinci robotic system in 2005, Severance Hospital has achieved the remarkable record of exceeding 20,000 cases of robotic surgery in the shortest time in the world.
Severance Hospital was first equipped with the da Vinci S system in July 2007. We were the first hospital in Korea to use this system, and by November 2009 more than 3,000 robotic procedures had been performed on our three da Vinci S systems by a large number of different surgeons and professional robotic surgical teams.
This Severance Robotic & MIS Training Center was established in 2008, and is the second training center in Asia to be validated by Intuitive Surgical Corporations. From the start, it has focused on the importance of team training, with education provided to surgeons, robotic scrub nurses and chief nurses alike.
In 2009 the Center expanded its training capabilities through the establishment of animal and cadaveric laboratories. These enable us to provide more systematic training, knowledge and consulting service to our surgeons, nurses and operating room personnel.
In 2013, the Center was transferred to Avison BioMedical Research Center where research departments were concentrated. As a result of transferring, we are now possible to provide optimal training environment including da Vinci Si and S.
In 2018, a da Vinci SP system was installed in our operating theater for the first time in Korea and performed the most operations in the world. It has been giving many leading surgeons the opportunity to improve their techniques until now.
Now, Severance Robotic & MIS Training Center has many training programs as Simulator, System training, Case observation, Advanced course.
We are delighted to be meeting our goal of training surgical teams in excelling at robotic surgery and improving patient care.
Please join us and meet with the innovations and advances of robotic surgery
Byung Soh Min, M.D., Ph.D.
Director, Severance Robot & MIS Center Severance Hospital
Yonsei University Health System